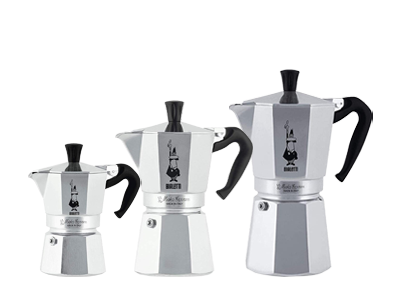 The italian espresso maker (also espresso maker, mocha pot - the opinions about the "right" name do differ), Italian "Caffettiera" is a coffee percolator and is used for preparation of coffee on a stove.
It was developed in 1933 with it's classic design by Alfonso Bialetti under the name of Moka Express and manufactured in the postwar era in aluminum.
The sizes of the espresso maker are based on the number of cups of coffee (espresso cups) specified that can be prepared.
Original Bialetti gaskets for Bialetti espresso maker can be found here
Our italian, espresso coffee ground for the Moka Pot can be found here.