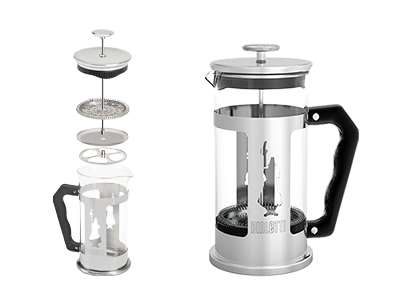 This form of coffee making was patented in 1852 by two Frenchmen (Mayer and Delforge).
The design was significantly improved in 1929 by the Italians Attilia Calimani and gave the French press the shape which has been maintained until today.
The French Press brewed coffee is characterized by a stronger taste and, unlike filter coffee where the coffee oils remain, more aroma and body.
Stylish elegant French Press of Bialetti!

High quality workmanship for the best coffee experience! 350ml capacity with the French press from Bialetti for about 3 cups of coffee.

Learn More

Stylish elegant French Press of Bialetti!

High quality workmanship for the best coffee experience! 350ml capacity with the French press from Bialetti for about 8 cups of coffee.

Learn More