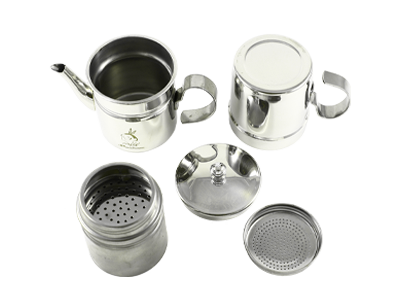 The Macchinetta Napoletana has its origin in the 19th century, it was invented by a Frenchman (Morize) in 1819th
Basis for the shape of the Napoletana is one of the first known filter preparation forms that was introduced in 1691 by du Belloy. The Napoletana quickly spread through Italy and most of the Neapolitans swear to this form of preparation, even if the rest of Italy the preparation with the Bialetti espresso maker has prevailed in the household.
Enjoy a strong and intense coffee with this traditional method of preparation!
Perfect for the macchinetta: our pre-ground coffee from Italy or for those with a coffee grinder our whole range of italian espresso beans!
The Neapolitan way of making coffee!

The maccinetta napoletana has its roots in the 17th century in Naples and is still considered by many to be the typical italian way of making coffee!
The beautiful stainless steel design will delight you as well as the coffee in your cup! The size of this napoletana is for 1-2 (espresso-)cups.

Suited for all stoves except induction!

Learn More

The Neapolitan way of making coffee!
The maccinetta napoletana has its roots in the 17th century in Naples and is still considered by many to be the typical italian way of making coffee!
The beautiful stainless steel design will delight you as well as the coffee in your cup! The size of this napoletana is for 3-4 (espresso-)cups.

Learn More

The Neapolitan way of making coffee!
The maccinetta napoletana has its roots in the 17th century in Naples and is still considered by many to be the typical italian way of making coffee!
The beautiful stainless steel design will delight you as well as the coffee in your cup! The size of this napoletana is for 6 (espresso-)cups.

Learn More