History and Origin
The Macchinetta Napoletana has its origin in the 19th century, it was invented by a Frenchman (Morize) in 1819.
Basis for the shape of the Napoletana is one of the first known filter preparation forms that was introduced in 1691 by du Belloy.
The Napoletana was quickly spread through Italy and most of the Neapolitans swear to this form of preparation, even if the rest of Italy the preparation with the Bialetti espresso maker has prevailed in the household.
Coffee for Macchinetta Napoletana
There is not one specific type of bean especially suited for this kind of coffee preparation. The only criteria is as always depending on your preferences, aroma and taste.
Personally we do enjoy the italian espresso roasts which are available both ground and in whole beans should you grind your coffee yourself.
Taste and Aroma
Basically: Darker roasts are more stronger, more bitter in taste.
Lighter roasted coffee from northern Italy or single origin coffees are rather mild and round in taste.
Similar to filter coffee, light roasted single origin 100% Arabica beans will have clear floral notes a mild rounded taste and very little bitterness.
As an introduction to this method of preparation, we would recommend the following varieties:
In whole beans
Salimbene Caffetteria - dark, strong espresso blend of Naples
Ground coffee
Varesina Top - Round, slightly more intense espresso blend
Grind level for Macchinetta Napoletana
The grindness for the Macchinetta Napoletana a medium: between moka pot and filter.
Basically, the finer you grind the coffee, the more intense the flavor in the cup.
Amount of coffee
5-6 grams per cup (about a heaped teaspoon) are generally used.
The ratio of grindness and quantity will very much determine the taste.
Basically: a finer grindness needs less quantity of ground coffee, ground coarsely, you will need more coffee per cup.
As mentioned above - the finer you grind, the more intense your coffee.
Coffee Preparation with the Macchinetta Napoletana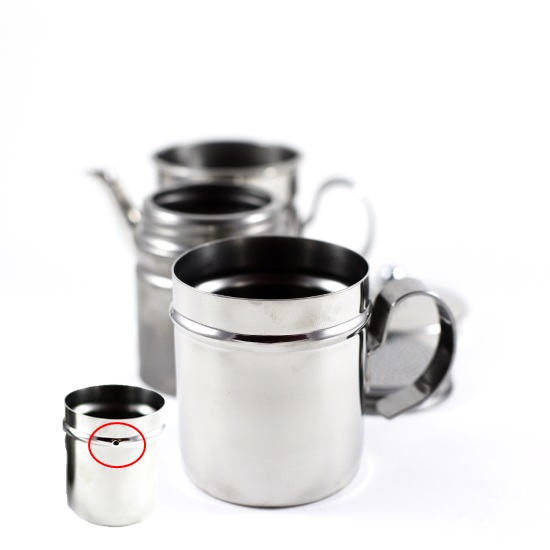 1. | Fill with water
First, the part without spout is filled with water. The maximum amount of water is defined by the pressure hole near the top.
2. | Fill with coffee
Fill the ground coffee in the filter mid-section and screw it on.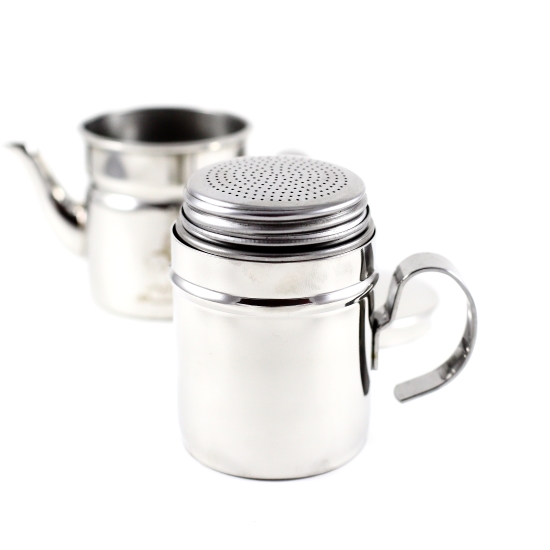 3. | Insert filter
Now the filter part is inserted into the bottom part (the water tank).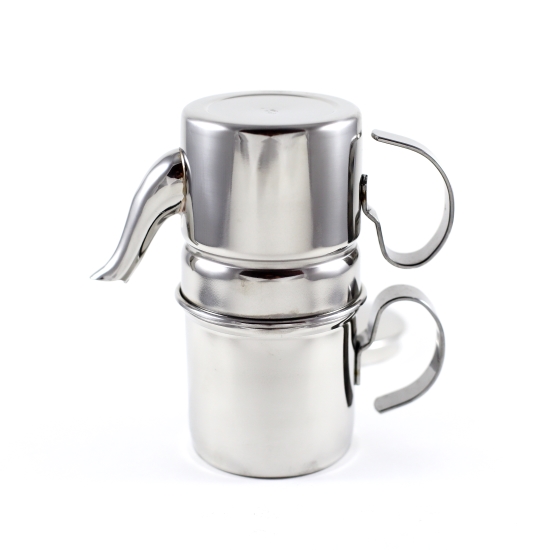 4. | Close the napoletana
Assemble all parts. The whole now resembles an inverted coffee pot.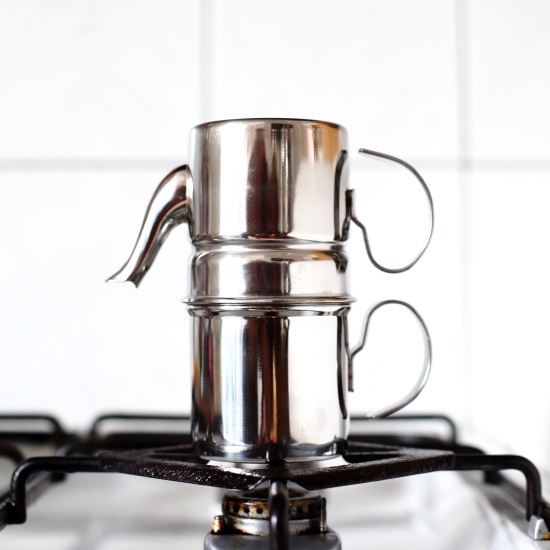 5. | Heat up
The Napoletana is then placed on the stove and heated up until steam escapes from the pressure hole - the water is boiling!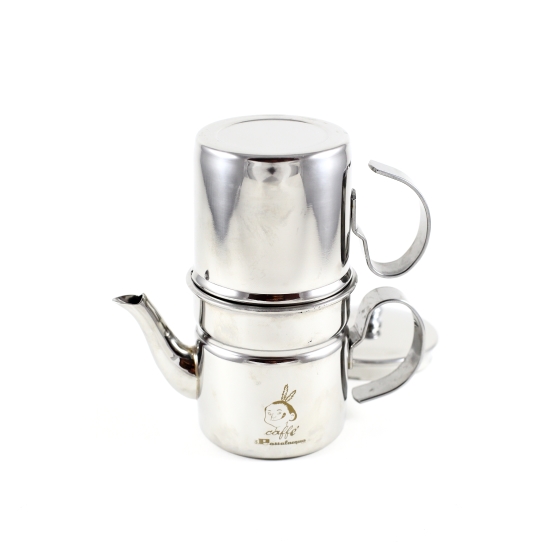 6. | Flip it
Now the pot is gently takenon both handles off the stove and flipped (now the whole looks again like a coffee pot).

7. | Enjoy
The water now runs through the middle filter, wait for 2-3 minutes (or longer, depending on the size of your macchinetta) then remove the upper part carefully.
The Neapolitan way of making coffee! The maccinetta napoletana has its roots in the 17th century in Naples and is still considered by many to be the typical italian way of making coffee!

The beautiful stainless steel design will delight you as well as the coffee in your cup! The size of this napoletana is for 1-2 (espresso-)cups.

Suited for all stoves except induction!

NO SHIPPING – ONLY CLICK AND COLLECT AT OUR STORE IN VIENNA!

Learn More

The Neapolitan way of making coffee! The maccinetta napoletana has its roots in the 17th century in Naples and is still considered by many to be the typical italian way of making coffee!

The beautiful stainless steel design will delight you as well as the coffee in your cup! The size of this napoletana is for 3-4 (espresso-)cups.

NO SHIPPING – ONLY CLICK AND COLLECT AT OUR STORE IN VIENNA!

Learn More

The Neapolitan way of making coffee! The maccinetta napoletana has its roots in the 17th century in Naples and is still considered by many to be the typical italian way of making coffee!

The beautiful stainless steel design will delight you as well as the coffee in your cup! The size of this napoletana is for 6 (espresso-)cups.

NO SHIPPING – ONLY CLICK AND COLLECT AT OUR STORE IN VIENNA!

Learn More