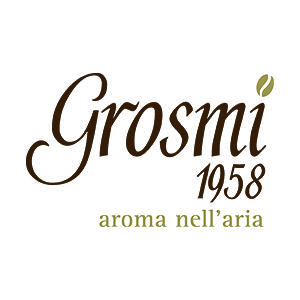 Like many Italian success stories, "Caffè Grosmi" began in 1958 as a small family business.
The Francescut family operated their small espressobar in Sacile in the Friuli-Venezia-Giulia region.
Soon, a small coffee-roaster was bought, with which the Francescuts started roasting their coffee at home for the bar.
The demand for the excellent espresso grew and so the roaster soon moved from the "living room" directly into the coffee bar. So the aroma of the freshly roasted beans spread over the whole market place and attracted more and more people into the bar. Hence the addition "Aroma nell 'Aria" - "Aroma in the air".
Due to the excellent coffee quality, the small company grew and started exporting all over the world.
Caffè Grosmi is still a family business, which is now operated in the second and third generation. So the 60 years of experience and passion continues to flow into the coffees of Grosmi and ensure your enjoyment!
Although Caffè Grosmi chooses a lighter degree of roasting, you get the impression of having a southern Italy espresso in your cup. Strong, intense and creamy!